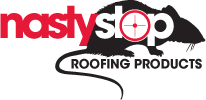 WT Roofing uses and recommends Nastystop, a product that was conceived by business partners Mark Johnston and Wayne Thomas. Both Mark and Wayne have extensive experience in the roofing industry and saw a need for a product like this in Australia where rodents and possums run rampant.

The Nastystop Idea
The Nastystop idea itself has been available in Europe for many years, however, what makes Nastystop different from these other products is the far superior material that its manufactured from. Where as similar products in Europe are made from plastic, Nastystop is made from zincalume which is rust resistant and is much more suited to Australia climate.
Nastystop is an innovative product specifically designed for the Australian market. Corrugated iron roofs in Europe are mainly used on sheds, warehouses, industrial buildings, in Australia we have a strong affinity with corrugated roofs. But as we know corrugated roofs have some major draw backs and Nastystop was developed to fix one of them, to keep the little nasties OUT!
If you would like to know more about Nastystop please see their website or contact us here.